//

Past Events 2012

[2022] [2021] [2020] [2019] [2018] [2017] [2016] [2015]
[2014] [2013] [2012] [2011] [2010] [2009] [2008]

BACFI Denning Lecture (19th Nov)
EU Law Seminar

EU Law Seminar 4th October 2012

Our Autumn seminar on EU law for in-house counsel featured a strong line up of practitioners speakers chaired by leading EU academic Professor Susan Nash of City University.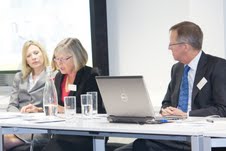 Jacqueline Mailly of Hogan Lovells Brussels office gave an overview of the EU legislative process and the relationship between the main institutions for the would-be lobbyist. She quickly demystified the world of Proposals, Commission Positions, Adoption and Conciliation.
Hannah Gurga, Head of European Regulatory Affairs for ICAP plc shone a light on the wave of incoming Financial Services regulation from the EU, G20 and our own domestic regulators. 50% of business related legislation has an EU origin and she explained the in-house lawyer's role in practice as EU adviser/informer/risk analyser/drafter; influencing the course of EU legislation and implementing the outcome.
Professor Nash ensured we all had ample time for questions between comprehensive but compact bites of information. We agreed than UK financial services may well fall victim to the fundamental differences that exist between our anglo saxon and the continental approach to the industry.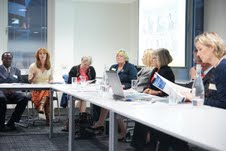 The "short selling" Regulation was rushed through without adequate consideration of unintended consequences and the UK Government is currently challenging it in the CJEU. Hannah's experiences at HMT Treasury informed our discussions here and the statistics are startling. 76% of the Eurozone's GDP is accounted for by just 4 of its members; whilst 80% of the EU's financial services market is in the UK. Banking Union is next on the harmonisation hit list, despite the fact that its principal raison d'etre - the fiscal responsibility provisions - have been dropped.
Chris Parker explained that EU "soft power" also operates on a global level, providing a regulatory lead that the rest of the world follows. Microsoft takes lobbying seriously and maintains a large Brussels office to protect their R&D investments. He even managed a brief recruitment pitch!
Chatham House Rules prevailed as usual, so only a flavour of the discussions can be given; but even more practical information emerged from members and guests attending, who included Evanna Fruithof, Director of the Bar Council's Brussels Office.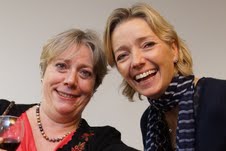 Thanks to the kind members of Chambers and Director of Hardwicke, we enjoyed drinks and more animated conversation after the seminar and we are grateful to Professor Nash and all 3 speakers for sharing their experiences and expertise so generously.
---
Archive list of 2021 events
Archive list of 2020 events
Archive list of 2019 events
Archive list of 2018 events
Archive list of 2017 events
Archive list of 2016 events
Archive list of 2015 events
Archive list of 2014 events
Archive list of 2013 events
Archive list of 2012 events
Archive list of 2011 events
Archive list of 2010 events
Archive list of 2009 events
Archive list of 2008 events
Archive list of 2007 events