//

Past Events 2019

<

[2022] [2021] [2020] [2019] [2018] [2017] [2016] [2015]
[2014] [2013] [2012] [2011] [2010] [2009] [2008]

2019 Denning Lecture (4 December)
Sport & Legal Life
Student Evening (22 October)
CMA/FCA Seminar (17 October)
BACFI Wine Tasting (25 September)
Becoming an Authorised Education and Training Organisation for Pupillage (27 June)
BACFI Garden Party (12 June)
The Oil and Gas Industry (10 April)
Legal Department of the Future (21 February)

Sport & Legal Life
11th November 2019

On 11 November 2019, BACFI and the Employed Barristers' Committee of the Bar Council held a joint event, put together and chaired by current EBC Chair and former BACFI Chair, Lucinda Orr, and kindly hosted by DLA Piper at their offices. The event "Sport and Legal Life" brought together a selection of eminent employed and non-practising barristers, who all work inside sporting organisations.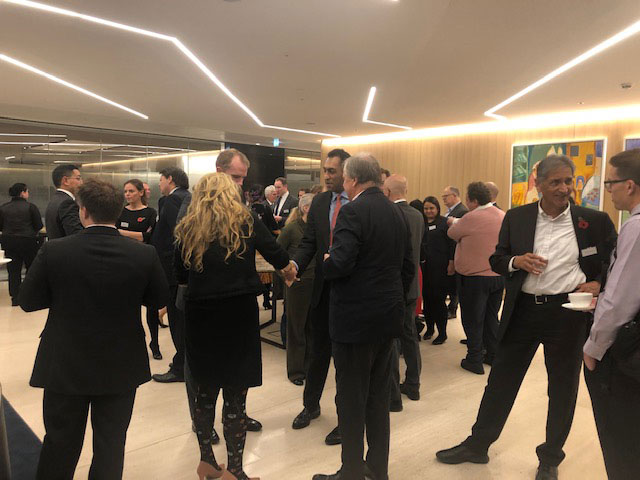 Ian Ritchie had left a career at the Criminal Bar in the late 1980s to work in TV initially, which eventually led to him being appointed the Chief Executive Officer of the All England Lawn Tennis and Croquet Club, followed by the Rugby Football Union, and now to his current role as the Chairman of Premiership Rugby. He explained how his legal skills and the explosion of TV sporting rights had complimented each other and led to a fascinating career.
Following Ian Ritchie, Saeran Ramaya, who is currently Chief Counsel, Race Promotions and Events for Formula 1, explained how her introduction to the legal and sporting world had been through a secondment to the London Organising Committee of the Olympic and Paralympic Games from Freshfields in 2010, which had meant to be 3 months but turned into over 2 years with them! From there, followed jobs when England hosted the Rugby World Cup in 2015, before becoming General Counsel to the Ladies European Tour for Golf, and now to her current role at Formula 1. Saeran thought that an understanding of the sport for which you held a legal role was important, but actually being too fanatical about the sport in which you work could be a potential disadvantage to lawyers.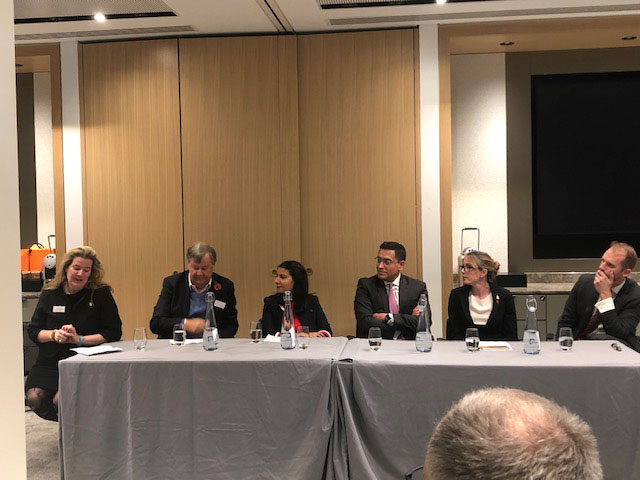 Jenny Agnew, who is the Head of Governance at England Hockey, described how she had spent 16 years in the Army, latterly training to be a barrister and joining the Army Legal Service. It was from here that 18 months ago, she took up the newly created position at England Hockey. She felt for her, an understanding and passion for the game was essential and that the breadth of her role in a smaller sport was exhilarating but challenging, covering everything from safeguarding for youth players, to health and safety concerns for Short Corners.
Equally, Yousif Elagab, who is acting Head of Regulatory Legal at the Football Association, who had again started life at the Criminal Bar, felt that it was important to have a love for the sport in which you work. He quite rightly would not be drawn on VAR though!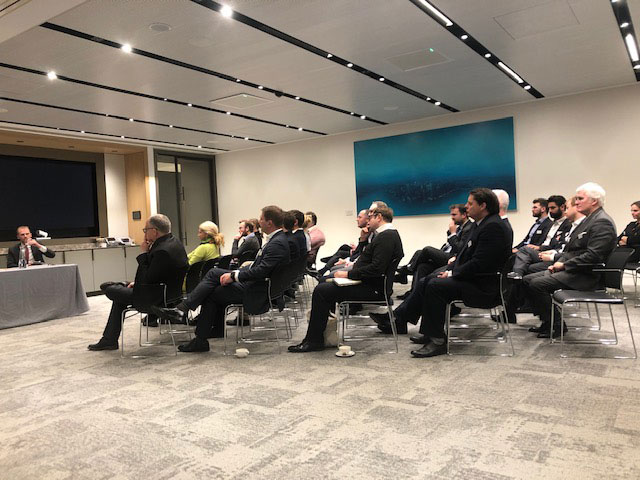 The last speaker for the evening was Wayne Barnes, who, when not being a Director at Fulcrum Chambers specialising in white collar crime, is an International Rugby Football Union referee. He was fresh back from umpiring the group matches and the Bronze medal match at the World Cup in Japan. He described how his two careers had run parallel, being taken on for tenancy the day before he umpired his first professional match. He felt the two careers had complement each other well.
The evening had an excellent turn out, with a wide range of people coming to hear the speakers. There was lively questions at the end of the talks, with discussions flowing over to delicious canapes and drinks, courtesy of DLA Piper. The event was an excellent window into the plethora and myriad different ways legal skills and the expertise of employed barristers can be deployed inside sporting institutions and organisations.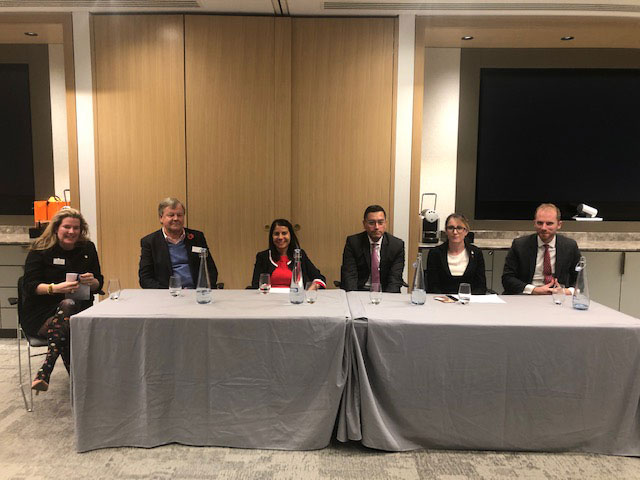 ---
Archive list of 2021 events
Archive list of 2020 events
Archive list of 2019 events
Archive list of 2018 events
Archive list of 2017 events
Archive list of 2016 events
Archive list of 2015 events
Archive list of 2014 events
Archive list of 2013 events
Archive list of 2012 events
Archive list of 2011 events
Archive list of 2010 events
Archive list of 2009 events
Archive list of 2008 events
Archive list of 2007 events